Young Voices on Leaving No-one Behind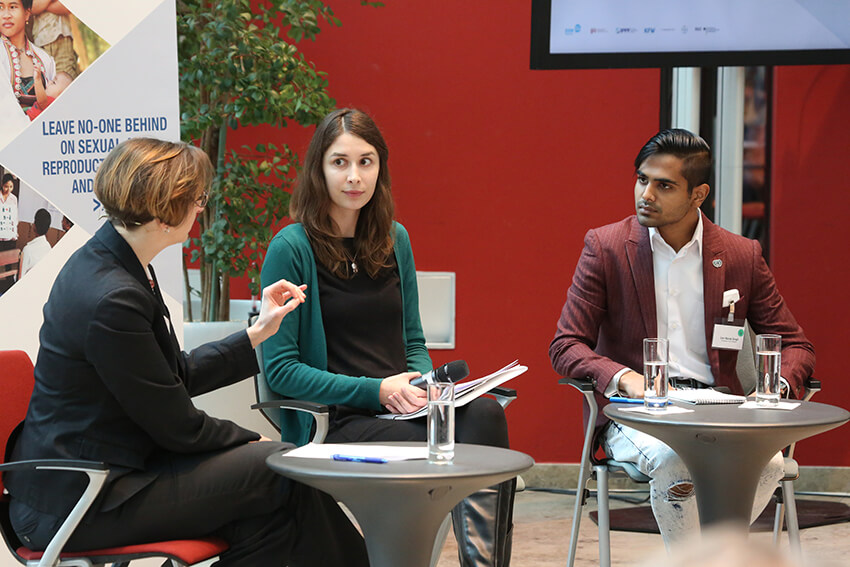 The second day of the conference opened with a showcase of youth perspectives. Ana Rizescu (Romania), Coordinator at YouAct was interviewed alongside Levi SIngh, the National Coordinator of AfriYan and Siyakwazi Youth Network (South Africa).

The pair began by describing how they work within government structures, Singh described how his organisation managed to frame SRHR of adolescents and young people as a constitutional right. The youth advocates brought together civil society, including youth-led and youth-serving organisations, for a three year strategic effort that included becoming well-versed in constitutional issues.

"We were greeted with cautious optimism," Singh told the audience. "Youth civil society is expected to be disruptive. We're expected to be less prepared, less professional than more seasoned advocates. So we had to redefine the narrative and show we can participate as equals. We've read your 15 reports, we know what's in your policies." With this level of preparedness, as a clear set of priorities, Singh and his peers won the support of older civil society advocates as well as duty bearers. "We had to claim our seat at the table," he said.
Continuing vulnerability
Ana Rizescu described the situation of young people in Eastern Europe, outlining their continued vulnerability to poverty, unemployment and challenges in defending their sexual and reproductive health and rights. "In many cases, on paper things seem to be fine, but the reality is very different," explained the young advocate. "So it's very challenging to keep governments accountable and to monitor how the strategies, promises, action plans and policies are actually translated into reality."
When the European region is observed as one entity, the vulnerabilities of youth in the east are masked. "There are still high rates of adolescent pregnancy, especially in Bulgaria. Child marriage is still an issue in Albania and Turkey, the prevalence of HIV is on the rise across the region - and it is young people who are most affected, especially in Ukraine, Moldova and Belarus," Rizescu explained. "There is an alarmingly low use of modern contraceptives, homophobic attitudes still persists and comprehensive sexuality education is not accessible for many young people in the region."
What complicates an honest dialogue on these issues, according to Rizescu, is an aspiration to be seen as part of developed Europe.
In the African context, Singh reported that it can be quite dangerous to undertake activism. "In Southern Africa we are blessed with a good level of democratic participation and healthy institutions," he explained, "There is an enabling environment to undertake activism, to some degree. In some regions in Africa, any sort of activism, even if it is SRHR related, can be viewed as holding anti-government views. So it is quickly suppressed."
The power of data, if you know how to use it
Gathering data proved to be a challenge for Singh and his peers, as they encountered a steep learning curve. "We thought that it would be really easy. You just develop this tool and train people on how to use it," he laughed. "But it didn't happen that way. There are ethical clearances, you have to meet set criteria laid out by research institutions."

But data is the key to providing an accurate picture of both the needs and experiences of young people, and it is an invaluable tool for demanding accountability from power-holders. "You have to start from the basics: what is quantitative, what is qualitative? You need an intensive process of four to six weeks to train those gathering, to make sure they are competent and confident in terms of being able to collect that data, and package it as a tool for dialogue."

Singh's peers were successful and able to demonstrate that, while the average African is 19 years old, the average policymaker is in their seventies. "There is a clear intergenerational gap. So data collection and data interpretation helps us look at this gap and figure out how we can leverage data for policy making, or the enforcement of existing policy," Singh explained.

Desegregated data was an important element in this work, because according to Singh, aggregated data tends to mask the realities of an individual. "In the narrative of leaving no one behind, we have to meet individual realities."
Reflecting on the needs of young people
Making use of the opportunity to address SRHR experts directly, Ana Rizescu turned to the audience to deliver a list of issues she encouraged them to reflect on. "You must follow up at home. We come to these conferences, we get motivated, inspired. It's such an uplifting experience. But then when you go back home, it's tough to maintain this motivation," she said. "And we have to continue intergenerational dialogues like this."

Following large international meetings, members of YouACT and other youth advocacy groups stumble once they get home. Finding themselves outside the discussion on their futures, and excluded from funding because they are considered too small. She called on delegates to include young people in SRHR work from the beginning.

Singh also expressed concern about the exclusion of young people from the decision-maker's table. With young people comprising 1.8 billion, how, he asked, was there no SDG goal for young people? "It really does beg the question, how serious is the international community about young people?"
Supporting youth as they speak for themselves
Several delegates offered ideas and described the situation for young people in their communities. Catherine Nyambura took issue with the way adult advocates and policy-makers ask young people to create simplified summaries of their needs. "The assumption is that young people won't be in the room, and older people will be their voices. This summarising makes the diverse needs of young people invisible."

Yasmeen Qazi, from the David and Lucile Packard Foundation, also supported young people speaking for themselves and said it was heartening to see articulate young people participating in the dialogue. She asked for reflection on the "art and science of movement building" as this was at the core of the work to delay the age marriage and create policy to protect young girls in Pakistan. "Although there were so many hurdles getting this through, it has real impact for the young girls who are forced into marriages and are forced to drop out of school. It's great to have youth voices - you are the face of tomorrow."